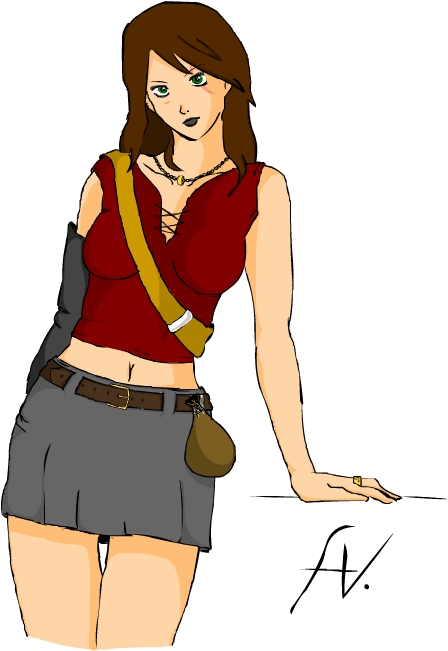 Advanced character profile :
Full name: Seeta Rose Sinclair
Known as: Seeta
Rank: Rookie Corsair
Recruitment day: 2004-05-24
Appearance: Shoulder length dark brown hair Her eyes are dark green and are a lot calmer looking. Across her left eye she has a large scar caused by the undead nightmare wosret and under her right eye she has a very small one. Her lips are normally painted black. She wears dark clothes and on her right hand she wears a long black velvet glove. Overall Seeta's has a sort of gothic tint.
Work-description: She is a rookie in the guardsmen militia.
Personality: Keeps to herself most of the time nowa days and seems to have calmed down greatly. From excitable and friendly to cold and unenthusiastic, she has changed significantly throughout her years of service in the militia.
Background: Seeta originated from Trinsic where she used to live with her mother and her criminal brother Zack.
Alignment: Chaotic Good -
Reputation: Seeta is known as, another grumpy and irrational corsair.
Motivations/goals: To join the corsairs
Quote: " Time to die oh useless one.&quot

Ribbons: "Ribbon of Recruiting"


Medals: