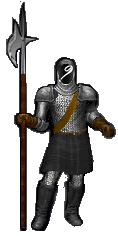 Advanced character profile :

Full name: Eldridge
Known as: Eldridge
Rank: Librarian
Recruitment day: 2001-03-01
Appearance: Eldridge is a man in his middle fourties, but he looks younger. He is not scarred and his hands looks like he has never worked in his life. Yet he does work, but no hard labour, he thinks and writes.
Work-description: He is a librarian in the Guardsmen Militia. He is not overly excited about his current job, the copying of the King's Law, but he has plenty of time to read and do whatever he likes.
Personality: Eldridge is often found reading, and really hates to get interrupted while doing so. He likes to talk to people about his books or about poetry.
Background: He was the fifth child of a rich family. He never had to work because his father thought he'd better spend his youth learning.
Alignment: Lawful Good -
Reputation:
Motivations/goals:
Quote: " A copy of the Law? But of course, there you go.&quot

Ribbons:


Medals: