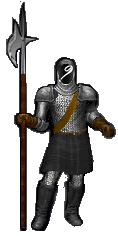 Advanced character profile :

Full name: Abygail Summer
Known as: Abygail Summer
Rank: Trainee
Recruitment day: 2004-10-04
Appearance:
Work-description: Always following the orders her superious, working hard to perform her duties as a trainee.
Personality: Shy yet gentle. A fine trainee who would've become a great guard.
Background: Not much is known about this trainee, though she used to keep a pet rat.
Alignment: Lawful Good -
Reputation:
Motivations/goals:
Quote: " &quot

Ribbons:


Medals: